Gastroenterology Services
Care, Prevention, and Peace of Mind From Experienced Gastroenterology Specialists
At Northeastern Gastroenterology Associates, we specialize in providing comprehensive care in diagnosing, treating, and preventing diseases of the stomach, intestines, esophagus, pancreas, gallbladder, liver, and biliary tract. Our team of gastroenterology specialists provides screenings, diagnostic procedures, and some of the most advanced surgical techniques used in gastroenterology today.
We believe in promoting a healthy digestive system. Whether patients are in need of a routine colonoscopy or need an endoscopy to help diagnose and treat complex gastrointestinal conditions, our physicians can help. Contact us today to request an appointment and take the next steps towards living a healthier life.
Disease Diagnosis and Treatment
Your health is our priority. Our physicians provide a full range of diagnostic and treatment options. We work with you to find the best solutions for your GI condition so that you can get back to living and enjoying life to the fullest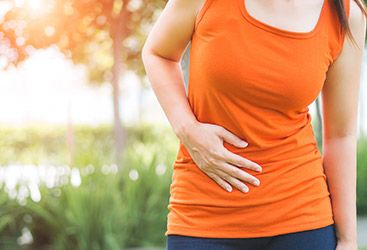 Abdominal Pain
Abdominal pain is a common symptom with a long list of potential causes. If the pain doesn't go away, it may be cause for concern. Our team of board-certified gastroenterologists can diagnose the cause of abdominal pain in patients and find a solution that works for them.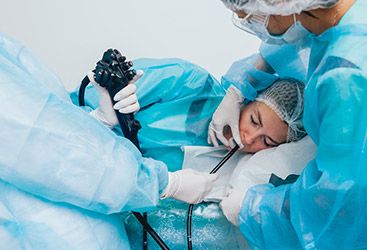 Barrett's Esophagus
Patients that have been suffering from gastroesophageal reflux disease (GERD) for a while may have an increased risk of developing Barrett's esophagus, a condition that increases the risk of esophageal cancer. Our team can help diagnose, treat, and help prevent recurrences.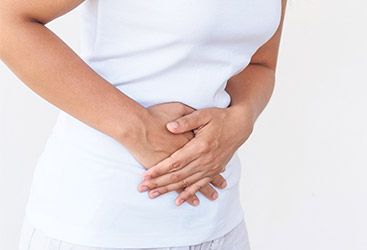 Bloating & Gas
Intestinal gas is a topic that people often would rather not discuss, but we all have gas in our intestinal tract. Gas can contribute to a sense of bloating, belching, abdominal cramps, and flatulence. Excessive gas and bloating may be a sign of a more serious GI condition.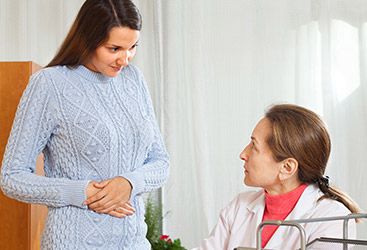 Chronic Liver Diseases
Chronic liver diseases include health complications that primarily affect the liver and have the potential to cause long-term damage or even failure to the liver if untreated. Some of the most common chronic liver diseases include cirrhosis, hepatitis B, and hepatitis C.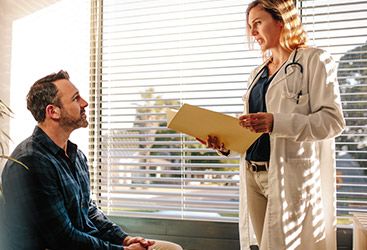 Colon Cancer Screening, Detection, and Treatment
When you're at risk for colorectal cancer, early diagnosis and detection are key to treatment success. From regular screenings to innovative cancer treatment options, our gastroenterology doctors strive to offer the most comprehensive care possible.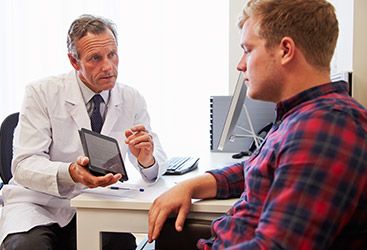 Colon, Gastric, or Intestinal Polyps
Colon or intestinal polyps are abnormal growths that stick out of the lining of the intestinal tract. Most people with polyps will not know they are there because they do not produce any symptoms. While they are usually benign, some polyps can turn into cancer.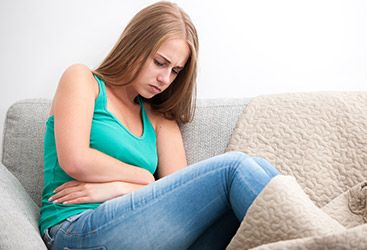 Constipation
It's normal to experience constipation at some point in your life. Poor diet and lack of exercise are usually the causes of constipation. However, if you're experiencing frequent or prolonged constipation lasting more than two days, it may be a sign of another issue.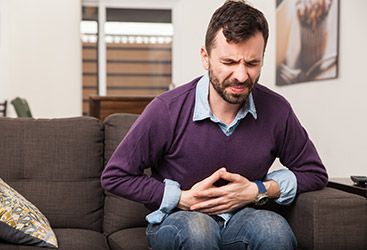 Diarrhea
Diarrhea – loose, watery stools occurring more than three times a day – is a common digestive issue that usually lasts a day or two and goes away on its own without any special treatment. Prolonged diarrhea, however, can be a sign of other digestive issues or complications.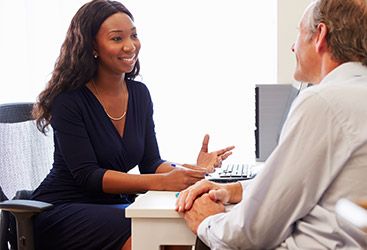 Diseases of the Pancreas
The pancreas is often referred to as the "hidden organ" because it is located deep in the abdomen behind the stomach. Diseases of the pancreas include diabetes mellitus, acute pancreatitis, chronic pancreatitis, pancreatic enzyme deficiency, and pancreas tumor.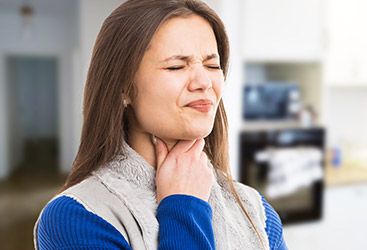 Eosinophilic Esophagitis
Eosinophilic esophagitis is a chronic allergic immune disorder characterized by swelling of the esophagus. This is caused by the presence of eosinophils in the esophagus. The inflammation can make it hard to swallow or cause food to get stuck in the esophagus.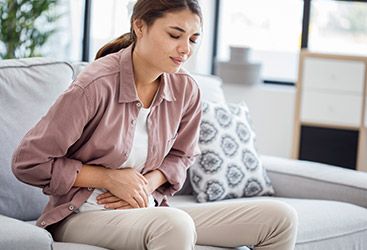 Gallstones
Gallstones are pieces of hard, solid matter that form over time in the gallbladder. Common symptoms associated with the condition include indigestion, nausea, and vomiting. Patients experiencing symptoms of gallstones or signs of a dysfunctional gallbladder should seek immediate care.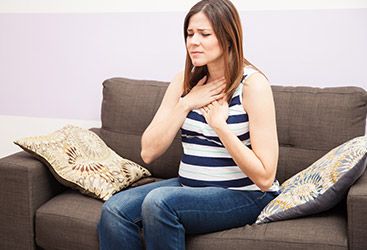 GERD
GERD, also referred to as acid reflux, occurs when the lower esophageal sphincter does not close properly and stomach contents leak back into the esophagus. This often leads to a burning sensation in the chest or throat called heartburn. Frequent GERD can lead to more serious health issues.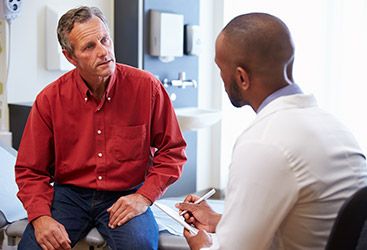 H. Pylori Diagnosis and Treatment
Helicobacter pylori is a gastric pathogen that can lead to gastritis, peptic ulcer disease, gastric adenocarcinoma, and low-grade gastric lymphoma. Our GI specialist can perform tests to diagnose this condition in patients and determine the right treatment.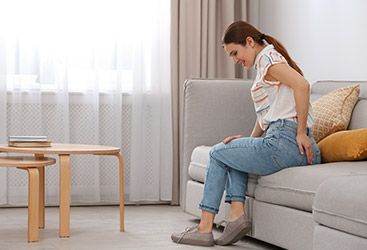 Hemorrhoids and Anal Fissures
Hemorrhoids are blood vessels in the rectum or anal canal. An anal fissure is a tear in the lining of the anal canal. Both fissures and hemorrhoids often result from passing hard stool and can cause various symptoms, such as pain during and after a bowel movement.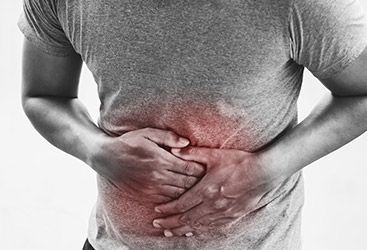 Inflammatory Bowel Disease
IBD causes intestinal inflammation. IBD is a term for a broad spectrum of diseases, but Crohn's disease and ulcerative colitis are the most common. Symptoms of IBD include diarrhea, abdominal cramps, bloody stool, constipation, anemia, weight loss, and more.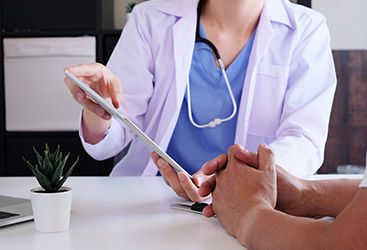 Minor Rectal Bleeding
Minor rectal bleeding refers to the passage of a few drops of blood from the rectum, which may appear on the stool, on the toilet paper, or in the toilet bowl. Minor bleeding usually is not a cause for concern. Still, a doctor can make sure nothing serious is going on.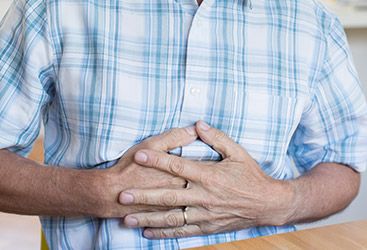 Peptic Ulcer Disease
Peptic ulcer disease refers to a condition where an individual has chronic peptic ulcers, which are sores in the lining of the stomach or the first part of the small intestine called the duodenum. If untreated, peptic ulcers may get worse and cause more serious problems.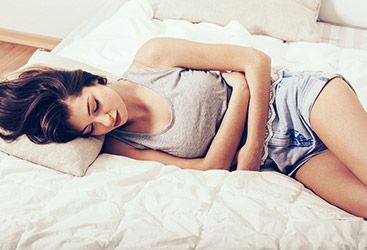 Stomach Pain
Many patients experience stomach pain from time to time. In most cases, stomach pain is a minor issue that will resolve itself over time. However, experiencing stomach or gut pain for more than a few days could be a sign of another issue and should be diagnosed right away.
Procedural Evaluations Offered
If you are suffering from stomach pains, irregular bowel movements, unusual vomiting, or other GI symptoms, our team of knowledgeable gastroenterologists can help. We use the latest technology to perform effective treatment and screenings using minimally invasive procedures.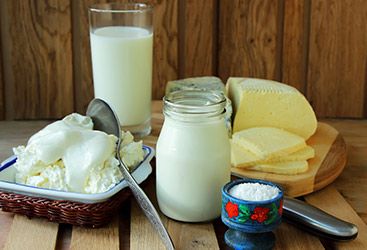 Breath Testing for Lactose Intolerance/Dairy Intolerance
Common symptoms of lactose intolerance include cramping, bloating, gas, or diarrhea after dairy products have been consumed. By administering a lactose breath test, our GI specialists can effectively diagnose lactose intolerance.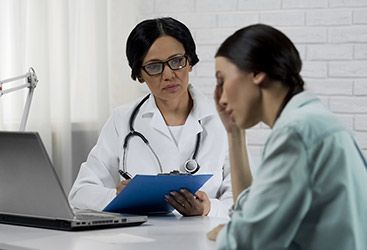 Breath Testing for Small Intestinal Bacterial Overgrowth
Bacteria growing uncontrollably in the small intestine can cause small intestine bacterial overgrowth (SIBO). This can result in symptoms such as bloating, diarrhea, or constipation. Breath testing can be used to diagnose this condition.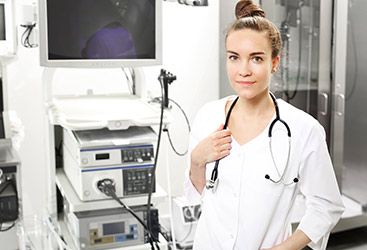 Colonoscopy
A colonoscopy is recommended to patients for a variety of reasons, most importantly for cancer detection and prevention. It is utilized to identify changes or abnormal growths in the colon. This colon cancer screening method saves lives and prevents the development of colorectal cancers.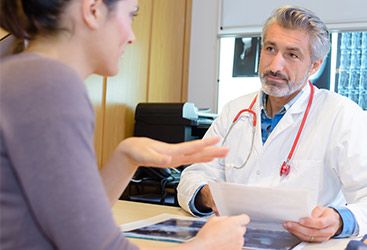 Endoscopic Retrograde Cholangiopancreatography
Endoscopic retrograde cholangiopancreatography, or ERCP, is a procedure that is used to diagnose and treat problems in the liver, gallbladder, bile ducts, and pancreas. It is often used to find the root of issues like abdominal pain or jaundice.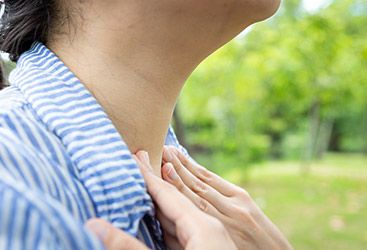 Esophageal Dilation
Some patients experience a narrowing in the esophagus that can cause difficulties swallowing and make food feel like it is stuck in the esophagus. Esophageal dilation is the careful stretching of the esophagus wall to provide relief from these complications.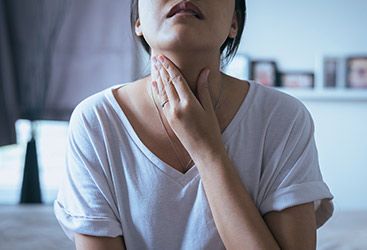 Esophageal Variceal Band Ligation
Esophageal varices are abnormal, enlarged veins in the esophagus. This condition occurs most often in patients with advanced chronic liver diseases. Band litigation is a treatment that helps prevent the varices from bleeding or stop acute bleeding quickly.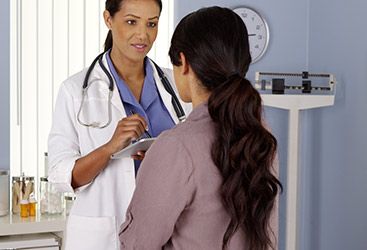 Hemorrhoid Banding
Hemorrhoid banding, also known as rubber band ligation, is a leading non-surgical method for treating and removing hemorrhoids. The procedure is used to cut the flow of blood to hemorrhoids, which will cause it to shrink and ultimately fall off after several days.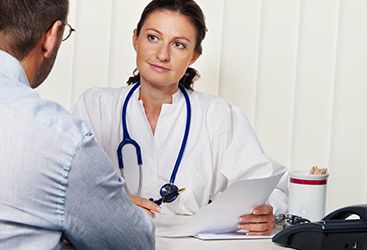 Pill Camera Small Intestinal Endoscopy
Pill Camera endoscopy is a procedure designed to help GI doctors see what is happening inside parts of the gastrointestinal tract. It is used to diagnose Crohn's disease, benign and cancerous tumors, ulcerative colitis as well as other disorders.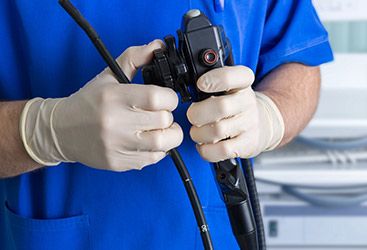 Upper Endoscopy
An upper endoscopy is a procedure that allows a gastroenterologist to visually examine the upper digestive system. It is often used to detect, diagnose, and treat inflammation, tumors, ulcers, and other abnormalities in the esophagus, stomach, digestive tract, and duodenum.
Infusion Therapy Treatments
Infusion therapy has become a widely used treatment by healthcare professionals across many medical fields, including gastroenterology. At Northeastern Gastroenterology Associates, we offer infusion therapy to treat various conditions and disorders.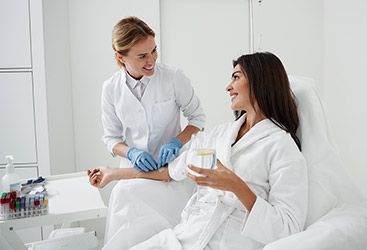 B12 Injection Therapy
Proper B12 levels are essential to the body in order to maintain adequate brain function as well as red blood cell and protein creation. Injections of vitamin B12 can also be considered when the body is not receiving what it needs naturally.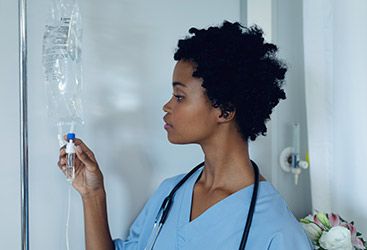 Biologic Infusion Therapy for IBD Treatment
Some medications for IBD are given as an intravenous infusion, including certain biologics. This can help treat inflammation and maintain remission in Crohn's disease, ulcerative colitis, and other inflammatory bowel diseases.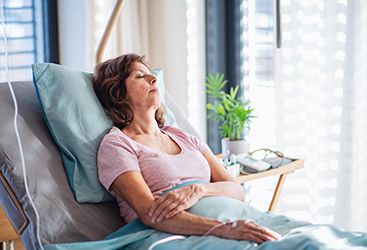 Iron Infusion Therapy for Treatment of Anemia
Iron is one of the key minerals in the body. When a patient does not have enough iron, their body cannot produce hemoglobin, which may lead to the development of anemia. Iron infusion therapy is an effective way to treat anemia.
Specializing in Diagnosis and Treatment for Any GI Concerns
Digestion complications or issues anywhere along your gastrointestinal tract can cause significant interruptions to everyday life. Don't let pain or GI concerns affect your health and well-being. Our gastroenterology specialists can help with any digestion conditions, including trouble swallowing, frequent heartburn, abdominal pain, or abnormal bowel movements. If you're experiencing any troublesome symptoms, contact Northeastern Gastroenterology Associates today!